Posts for: February, 2018
By Sunnyside Dentistry For Children, PC
February 17, 2018
Once they learn to walk, there's no stopping most children. Sometimes it can be a little jarring, as when you discover your toddler on top of the kitchen counter reaching in the cupboard on tip-toes for a snack!
Fortunately, children are fairly resilient. Unfortunately, they're not invincible — some of their adventures could result in physical injuries, especially to the highly vulnerable area of the mouth.
Even if you've carefully "child-proofed" your home, it's still best to be prepared for mishaps. Here are 3 common dental injuries and how to handle them.
Soft tissue injuries. Making contact with the ground or hard objects like furniture can injure the lips, tongue, cheeks or gums and cause bleeding, cuts or bruising. First, clean the area with clean water and a cloth or gauze as best you can, making sure there aren't any trapped pieces of tooth or dirt. Apply gentle, continuous pressure with a clean cloth to control bleeding, and apply ice packs or cold compresses for swelling. Don't apply bleach, aspirin or similar medications to open wounds. If the bleeding won't stop or the wounds look serious or deep, go to an emergency room.
Chipped or displaced tooth. A blunt force mouth injury can chip or push (displace) teeth out of position. In this case try to save any chipped pieces you find — your dentist may be able to re-bond them to the tooth. A displaced tooth is a dental emergency, so contact your dentist immediately. Don't try to re-position the tooth yourself unless it's completely knocked out.
Knocked-out tooth. Actions to take with a knocked-out tooth depend on whether it's a permanent or primary (baby) tooth. If permanent, rinse the tooth with clean water. Handle it by the crown (never by the root) and gently place it back in the empty socket. If that's not possible, place the tooth between your child's cheek and gum (if the child is old enough not to swallow it by mistake. You can also place it in a glass of cold milk. Get to a dentist or an emergency room as soon as possible — minutes count for a successful reattachment. Conversely, don't try to put a primary tooth back in its socket — you could damage the developing permanent tooth beneath the gum line. But do see a dentist as soon as possible for an examination.
If you would like more information on responding to mouth injuries in children, please contact us or schedule an appointment for a consultation.
By Sunnyside Dentistry For Children, PC
February 02, 2018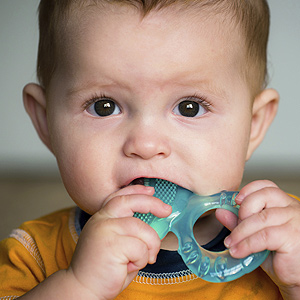 The arrival of your child's first set of teeth is a natural and expected process. But that doesn't mean this period of development, commonly known as teething, is an easy time: your baby will endure a fair amount of discomfort, and you, perhaps, a bit of anxiety.
Knowing the facts about teething can help you reduce your child's discomfort — as well as your own concern — to a minimum. Here are a few things you need to know.
Teething duration varies from child to child. Most children's teeth begin to erupt (appear in the mouth) between six and nine months of age — however, some children may begin at three months and some as late as a year. The full eruption sequence is usually complete by age 3.
Symptoms and their intensity may also vary. As teeth gradually break through the gum line, your baby will exhibit some or all normal teething symptoms like gum swelling, drooling and chin rash (from increased saliva flow), biting or gnawing, ear rubbing, or irritability. You may also notice behavior changes like decreased appetite or disrupted sleep. These symptoms may be a minimal bother during some teething episodes, while at other times the pain and discomfort may seem intense. Symptoms tend to increase about four days before a tooth emerges through the gums and about three days afterward.
Diarrhea, rashes or fever aren't normal. These symptoms indicate some other sickness or condition, which can easily be masked during a teething episode. If your child exhibits any of these symptoms you should call us for an exam to rule out a more serious issue.
Keep things cool to reduce discomfort. There are a few things you can do to reduce your child's discomfort during a teething episode. Let your child chew on chilled (but not frozen) soft items like teething rings, wet washcloths or pacifiers to reduce swelling and pain. Gum massage with your clean finger may help counteract the pressure from the erupting tooth. And, if your doctor advises it, pain relievers in the proper dosage may also help alleviate discomfort. On the other hand, don't use rubbing alcohol to soothe painful gums, or products with the numbing agent Benzocaine in children younger than two unless advised by a healthcare professional.
If you would like more information on dealing with teething issues, please contact us or schedule an appointment for a consultation. You can also learn more about this topic by reading the Dear Doctor magazine article "Teething Troubles."