Posts for: March, 2017
By Sunnyside Dentistry For Children, PC
March 30, 2017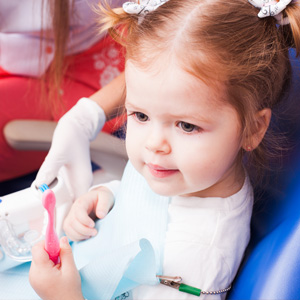 Your child's dental health is just as important as any other aspect of their physical development. That's why we recommend beginning regular dental visits around their first birthday.
Besides getting them used to and comfortable with visiting the dentist, there are other solid reasons for starting this habit by age one. Here are 4 benefits for regular early childhood dental visits.
Disease prevention. Children's teeth are just as susceptible to tooth decay as adults. Even primary (baby) teeth need protection so they can fulfill their role as guides for incoming permanent teeth. Besides monitoring and treatment for decay, we can also perform measures to protect teeth (especially in children at high risk) through topical fluoride applications or sealants.
Bite development. We can get early clues that a child's teeth are not erupting properly and are on the way to developing a poor bite (malocclusion). If so, we can initiate measures to lessen the impact of a developing malocclusion, like installing spacers to help guide an erupting permanent tooth. Early intervention can lessen the extent and cost of later orthodontic treatment.
Accident prevention. Disease isn't the only danger your child's teeth and mouth face. Even young toddlers can suffer mouth injuries falling onto furniture while playing or learning to walk. And the risk doesn't diminish as they get older, especially if they're active in sports. We can advise you on accident prevention tips and help fashion a custom mouth guard for that budding athlete in your family.
Caregiver assistance. The most important aspect of children's dental care is what happens every day at home. We can serve as your dental "coaches" to help you get on the right track with daily brushing and flossing, as well as give you helpful tips on good dietary habits that promote nutrition and deter dental disease. We'll also help you work through other childhood issues like teething, thumb sucking or teeth grinding.
Think of us as your partners when it comes to your child's dental care. We'll do our part, and help you do your part too.
If you would like more information on children's preventive care, please contact us or schedule an appointment for a consultation.
By Sunnyside Dentistry For Children, PC
March 15, 2017
What's an actor's most important feature? According to Vivica A. Fox, whose most recent big-screen role was in Independence Day: Resurgence, it's what you see right up front.
"On screen, your smile and your eyes are the most inviting things that bring the audience in" she said. "Especially if you play the hot chick."
But like lots of people, Vivica reached a point where she felt her smile needed a little help in order to look its best. That's when she turned to a popular cosmetic dental treatment.
"I got veneers years ago," Ms. Fox told Dear Doctor magazine in a recent interview, "just because I had some gapping that probably only I noticed."
What exactly are dental veneers? Essentially, they are thin shells of lustrous porcelain that are permanently attached to the front surfaces of the teeth. Tough, lifelike and stain-resistant, they can cover up a number of defects in your smile — including stains, chips, cracks, and even minor spacing irregularities like the ones Vivica had.
Veneers have become the treatment of choice for Hollywood celebs — and lots of regular folks too — for many reasons. Unlike some treatments that can take many months, it takes just a few appointments to have veneers placed on your teeth. Because they are custom made just for you, they allow you to decide how bright you want your smile to be: anywhere from a natural pearly hue to a brilliant "Hollywood white." Best of all, they are easy to maintain, and can last for many years with only routine care.
To place traditional veneers, it's necessary to prepare the tooth by removing a small amount (a millimeter or two) of its enamel surface. This keeps it from feeling too big — but it also means the treatment can't be reversed, so once you get veneers, you'll always have them. In certain situations, "no-prep" or minimal-prep veneers, which require little or no removal of tooth enamel, may be an option for some people.
Veneers aren't the only way to create a better smile: Teeth whitening, crowns or orthodontic work may also be an alternative. But for many, veneers are the preferred option. What does Vivica think of hers?
"I love my veneers!" she declared, noting that they have held up well for over a decade.
For more information about veneers, please contact us or schedule an appointment for a consultation.