Posts for: January, 2016
By Sunnyside Dentistry For Children, PC
January 18, 2016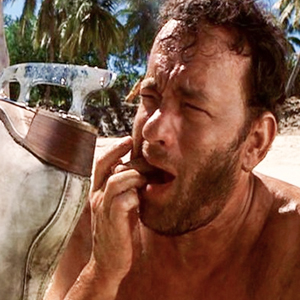 Did you see the move Cast Away starring Tom Hanks? If so, you probably remember the scene where Hanks, stranded on a remote island, knocks out his own abscessed tooth — with an ice skate, no less — to stop the pain. Recently, Dear Doctor TV interviewed Gary Archer, the dental technician who created that special effect and many others.
"They wanted to have an abscess above the tooth with all sorts of gunk and pus and stuff coming out of it," Archer explained. "I met with Tom and I took impressions [of his mouth] and we came up with this wonderful little piece. It just slipped over his own natural teeth." The actor could flick it out with his lower tooth when the time was right during the scene. It ended up looking so real that, as Archer said, "it was not for the easily squeamish!"
That's for sure. But neither is a real abscess, which is an infection that becomes sealed off beneath the gum line. An abscess may result from a trapped piece of food, uncontrolled periodontal (gum) disease, or even an infection deep inside a tooth that has spread to adjacent periodontal tissues. In any case, the condition can cause intense pain due to the pressure that builds up in the pus-filled sac. Prompt treatment is required to relieve the pain, keep the infection from spreading to other areas of the face (or even elsewhere in the body), and prevent tooth loss.
Treatment involves draining the abscess, which usually stops the pain immediately, and then controlling the infection and removing its cause. This may require antibiotics and any of several in-office dental procedures, including gum surgery, a root canal, or a tooth extraction. But if you do have a tooth that can't be saved, we promise we won't remove it with an ice skate!
The best way to prevent an abscess from forming in the first place is to practice conscientious oral hygiene. By brushing your teeth twice each day for two minutes, and flossing at least once a day, you will go a long way towards keeping harmful oral bacteria from thriving in your mouth.
If you have any questions about gum disease or abscesses, please contact us or schedule an appointment for a consultation. You can learn more by reading the Dear Doctor magazine articles "Periodontal (Gum) Abscesses" and "Confusing Tooth Pain."
By Sunnyside Dentistry For Children, PC
January 10, 2016
Every February, the American Dental Association sponsors a campaign called National Children's Dental Health Month. The purpose of this operation is to raise awareness about how important it is to get an early start on developing good dental hygiene habits — and how this can lead to a lifetime of healthy teeth and gums. So we thought this might be a good time to answer some of the most frequently asked questions about how to do exactly that:
When is it time to start cleaning my baby's teeth?
As soon as you see one! The earlier your child gets used to a daily dental hygiene routine, the better. Baby teeth that have not fully emerged from beneath the gums can be wiped with a clean, moist washcloth after feedings. A tooth that has grown in completely should be brushed twice daily (once in the morning and once in the evening) with a soft, child-sized tooth brush and a thin smear of fluoride toothpaste. Fluoride is an important weapon against tooth decay, but you don't want your child to swallow too much.
Can babies get cavities?
Absolutely — especially if they are allowed to fall asleep routinely with a bottle filled with anything but water. Milk, formula — even breast milk — all contain sugars that should not be left to pool around your baby's teeth during sleep, facilitating decay. Juice is an even bigger no-no because it is not only sugary but also acidic.
Can't I give my child sweets once in a while?
We realize total avoidance of sweets may not be realistic, as beneficial as this would be for your child's teeth. If you are going to allow your child to have sweets once in a while, better that the treat be given immediately following a meal, and not as a between-meal snack. Soda should really be avoided completely — it's that bad.
When should I take my child to the dentist for the first time?
The experts say: Get it done in year one. That's right — even though your child won't have many teeth by age 1, there's a lot we can do at that first visit to ensure good oral health now and well into the future. We will do everything possible to make sure your little one has a positive first experience in the dental chair; this helps set the tone for the many important preventive visits yet to come. It's also a great opportunity for you to ask any specific questions you may have, and receive hands-on instruction on how to care for your child's teeth and gums.
If you would like more information about children's oral health, please contact us or schedule an appointment for a consultation. You can learn more in the Dear Doctor magazine articles "Taking the Stress Out of Dentistry for Kids" and "Age One Dental Visit."