Posts for: November, 2014
By Sunnyside Dentistry For Children, PC
November 19, 2014
"Break a leg" is a well-known theatrical expression for wishing good luck to an actor about to go on stage. Singers should have one of their own…"Chip a tooth"! Apparently collisions between microphones and pearly whites are an occupational hazard for crooners. Taylor Swift became one of the latest casualties during a concert in Pittsburgh while belting out her hit "I Knew You Were Trouble." The consummate professional, she didn't miss a beat and kept on singing despite seeing a tooth chip hit the floor.
After all, while chipping a tooth is an inconvenience, it's not a permanent smile wrecker. Modern dentistry offers several options for restoring a damaged tooth to its original symmetry and luster, or even better!
Bonding
Dental cosmetic bonding is the quickest and lowest-cost option to repair a chip. This involves application of a composite filling material that is colored and shaped to match the original tooth. Bonding material can be used to replace the lost portion of tooth or to seamlessly reattach the lost portion if it has been preserved and is otherwise undamaged. Little to no removal of existing tooth surface is needed.
Veneers
A veneer can be used for slightly larger areas or discolored teeth. This is a thin, custom-made shell placed on the front of the tooth to give it a new "face." Some removal of existing tooth surface may be necessary to fit a veneer so it is flush with the surfaces of surrounding intact teeth.
Crowns
When a relatively large portion of the tooth is missing, a crown is often the better choice. It fully encases the visible portion of the remaining tooth above the gum line and is shaped and sized to match the original. It can be made of tooth-colored porcelain fused to metal crowns or all-ceramic (optimal for highly visible areas). A small amount of the existing tooth surface will be removed to allow the crown to fit over it.
If you would like more information about repairing a chipped tooth, please contact us or schedule an appointment for a consultation. You can also learn more about this topic by reading the Dear Doctor magazine article "Artistic Repair of Front Teeth With Composite Resin."
By Sunnyside Dentistry For Children, PC
November 03, 2014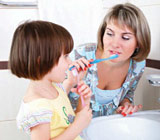 All children encounter sickness as they grow; thankfully most of these conditions are relatively mild and fade away in short order. But some children endure more serious, longer lasting conditions. The health of children with chronic diseases can be impacted in numerous ways, including the health of their teeth and gums.
Unfortunately, dental care is often pushed to the side as caregivers understandably focus on the primary disease. In addition, many chronic conditions involving behavior, such as autism, attention deficit and hyperactivity disorder (ADHD) or intellectual disabilities, may inhibit the child's ability to cooperate with or even perform daily oral hygiene. Many special needs children have an acute gag reflex that makes toleration of toothpaste, spitting matter from the mouth, or keeping their mouths open more difficult. However difficult it may be, though, it's still important to establish daily hygiene habits to reduce the risk of tooth decay and gum disease.
There are techniques for building a daily routine for children with physical and behavioral limitations. For example, using "modeling and shaping" behavior, you (or perhaps a sibling) brush your teeth with your child to demonstrate how it should be done. If there's a problem with cooperation, you can also position the child "knee to knee" with you as you brush their teeth. In this way you'll be able to meet their eyes at a level position and lessen the chance of a confrontation.
We encourage all children to have their first dental visit before their first birthday. This is especially true for children with chronic conditions. The Age One visit helps establish a benchmark for long-term care; it then becomes more likely with regular visits to discover and promptly treat dental disease. This is especially important for special needs children who may have congenital and developmental dental problems, like enamel hypoplasia, a condition where the teeth have not developed sufficient amounts of enamel.
Teeth are just as much at risk, if not more so, in children with chronic diseases. Establishing daily hygiene and regular checkups can reduce that risk and alleviate concern for their long-term oral health.
If you would like more information on oral healthcare for children with chronic diseases, please contact us or schedule an appointment for a consultation. You can also learn more about this topic by reading the Dear Doctor magazine article "Managing Tooth Decay in Children With Chronic Diseases."