Posts for: December, 2013
By Sunnyside Dentistry For Children, PC
December 16, 2013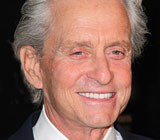 Actor Michael Douglas shocked TV audiences across the country when he announced on the David Letterman Show in 2010 that he has stage IV oral cancer. Fortunately, the cancer had not spread and his radiation and chemotherapy treatments were successful. This year, Douglas teamed up with the Oral Cancer Foundation to warn others about the dangers of the disease and the importance of early detection. In particular, he wants younger people to know that even if they don't smoke and drink a lot, as he admitted to Letterman that he did, they are still at risk.
As Douglas states in a PSA he made with the foundation, "the fastest growing segment of the people developing oral cancers are young, non smokers." That's due to a strain of the Human Papilloma Virus known as HPV16 that can be transmitted through oral sex. So it's important to avoid risky sexual behaviors and to be screened regularly for this devastating disease that claims one life every hour in the U.S., according to the Oral Cancer Foundation.
An oral cancer screening is a simple visual and tactile exam done right here at the dental office. We will feel your neck for lumps and inspect your lips and all inside surfaces of the mouth, including the back of your throat, for any suspicious signs. If any are found, a biopsy (laboratory analysis of a tissue sample) can be ordered.
Most oral cancers are "squamous" (small scale-shaped) cell carcinomas that occur in the lining of the mouth and are often preceded by recognizable changes (lesions) of the oral membranes. White or red patches begin to form in the pre-cancerous stage, and as the cancer develops, a non-healing ulcer may appear. If you notice any such changes in your mouth, please let us know.
Michael Douglas ends his PSA with the following plea: "So please, the next time you visit your dentist or your medical doctor, ask for this simple screening. Finding oral cancer in its earliest stages may save your life." We agree, which is why we always perform this screening during your regular dental check-up. If it's been a while since your last appointment, please come in and see us.
If you would like more information about oral cancer, please contact us or schedule an appointment for a consultation. You can learn more about the disease in the Dear Doctor magazine article "Oral Cancer."
By Sunnyside Dentistry For Children, PC
December 06, 2013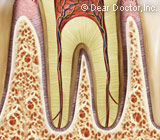 Without a doubt, an effective root canal treatment can extend the life of a tooth for many years. But sometimes even a well-maintained tooth can fall prey to disease months or even years after a root canal treatment. While there are a number of reasons to account for this failure, a common one is so tiny it could have easily been missed during the first treatment.
A root canal is an open space within the tooth that contains the pulp. The pulp is a connective tissue with a network of nerve fibers connected to the root that alert the brain to environmental changes involving the tooth. It is most important during the tooth's early development, but becomes less important as we age. The pulp is susceptible to infection from tooth decay or periodontal (gum) disease, which if left untreated can threaten the tooth's survival. During a root canal treatment, we enter these spaces, clear out the diseased pulp and fill the canal with a bio-compatible filling; we then seal it off to deter further decay.
The treatment could ultimately fail, though, because of accessory or lateral canals missed during the procedure. Like a tree with smaller branches growing out of its larger limbs, accessory canals are smaller access ways that branch off of the main root canals. These accessory canals, which can occur anywhere along a main canal, can be quite small and not easily detected during an initial root canal treatment. They are especially susceptible to infection due to gum disease if they open into the periodontal membrane, the main attachment point between teeth and bone.
If we suspect the presence of accessory canals (either initially or after ensuing problems following a root canal treatment), this could require the skills of an endodontist, a dentist who specializes in the treatment of a tooth's interior. Accessory canals are treated in much the same way as larger canals, but may require an endodontist's specialized microscopic equipment and filling techniques. Effective treatment of these smaller accessory canals will certainly improve the chances of a successful, long-term outcome for the tooth.
If you would like more information on root canal treatments, please contact us or schedule an appointment for a consultation. You can also learn more about this topic by reading the Dear Doctor magazine article "Accessory Canals."